October is Breast Cancer Awareness Month
While we celebrate the remarkable progress that has been made against breast cancer, 1 in 8 women in Canada are expected to be diagnosed with breast cancer in their lifetime.

Please consider a donation to the Canadian Breast Cancer Foundation. For the month of October, your generous donation will be matched to make twice the impact in transforming the future of breast cancer for the nearly 29,000 people in Canada estimated to be diagnosed with breast cancer in 2023.
ROSCO • Introducing Duètte™
Introducing Duètte™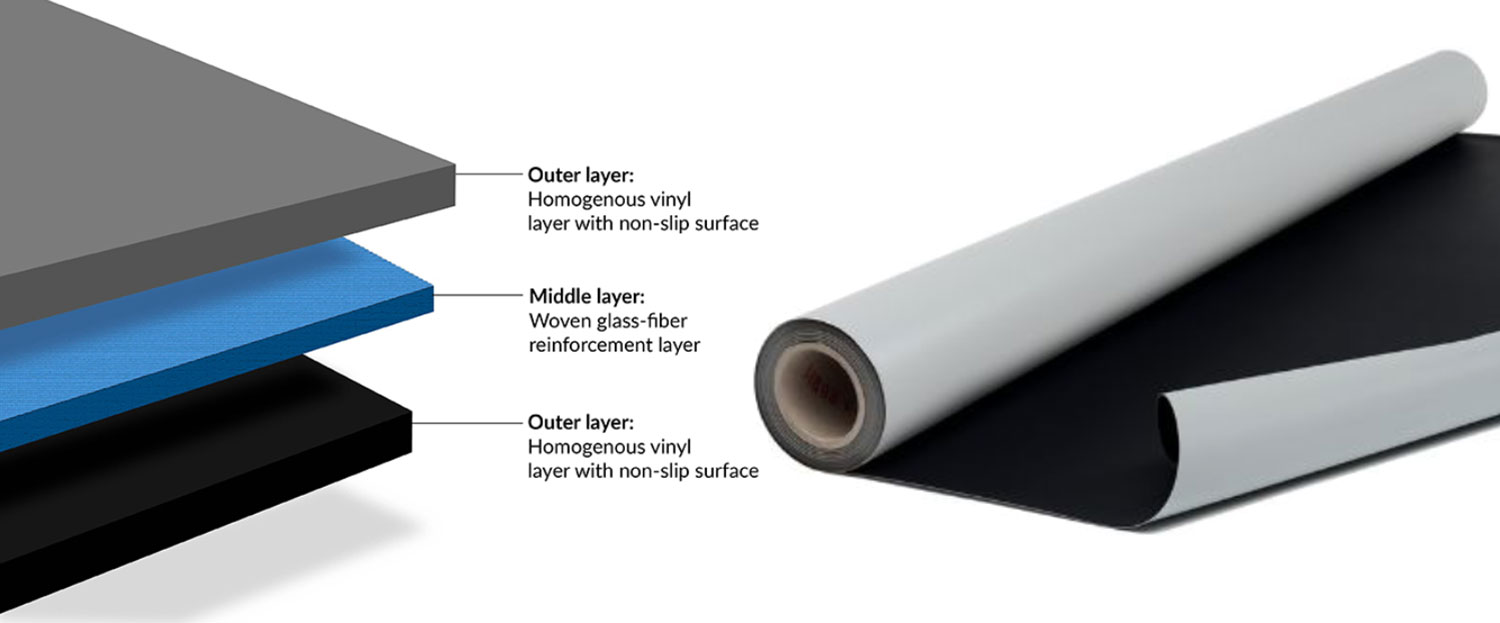 A New Floor For Touring Productions and Dance Studios
We are excited to announce a new addition to our range of flooring products for dance! Duètte is a reversible, 78.7" (2m) wide dance floor that is manufactured with a woven glass fiber interlayer between its two vinyl outer layers — making it dimensionally stable. This unique construction inhibits expansion and shrinkage due to temperature fluctuation, enabling Duètte to resist rippling and waves as it is laid out. Duètte is available in two color combinations — Black/Grey and Black/White.
Links & Downloads
Who Is The Right Customer For Duètte?
Touring Productions
Because it rolls out flat so easily, Duètte is ideal for anyone that needs to quickly roll out a floor. Because it of its wide width, there will also be fewer seams to tape, which results in a quicker installation time than other, narrower dance surfaces.
Dance Studios
Duètte's ability to resist buckling when temperatures change makes it an excellent choice for dance studio installations. Depending on the size of the studio, its 78.7" (2m) width could also result in needing fewer panels of floor, which might provide cost savings to the customer.
A Comparison Between Duètte And Rosco Dance Floor
Canadian Blood Services - Please Donate!
Canadian Blood Services currently has the smallest number of regular blood donors they've had in a decade — 31,000 fewer than before the COVID-19 pandemic. There is no greater gift than one that is lifesaving. People across Canada are asked to give to patients in need throughout this winter season.

Please donate: Canadian Blood Services.
Strand NEO X15
PREMIUM CONSOLE FROM THE INDUSTRY PIONEERS

A family of high-performance lighting consoles from the industry pioneer in moving head lighting control.

ONE SOLUTION FOR LIVE AND THEATRE

Designed for mix-use facilities such as performing arts centers; stadiums and arenas; houses of worship; studios; schools; and more.

TWO MODELS FOR MORE SPACES

Available in a compact 5-fader version and our flagship 15-fader model for the perfect balance of size and control for your space.
Dance Bars!
Aluminum frame dance bar
1-1/2" ID powder coated schedule 40 aluminum pipe
Custom lengths 4-8 feet long
Scenework is working with the STL Lighting Group

Scenework is proud to be collaborating with STL Lighting Group - distributors of a wide range of architectural lighting and controls for the Greater Toronto Area and Southwestern Ontario, including Times Square Lighting & Saliot Lighting Innovation.
Christ Church Cathedral, Vancouver BC



Working in collaboration with Quantum Lighting, Inc., Christ Church Cathedral, Vancouver BC involved updating two Strand CD80SV dimmer racks with retrofit processors, installing two new Vision.net touchscreens, new Vision.net button stations, as well as installing a new Neo Compact 10 console and eight Strand VL800 Propar LED fixtures to provide colour capabilities to their church services and events.

We utilized Signify dimmable LED lamp products for all of the new and retrofitted house lighting fixtures with everything controlled by the updated Strand system. The light output from the new PAR fixtures - that were fitted with dimmable Signify 33W LED PAR38 lamps - exceeded the light output from the previous PAR fixtures (fitted with 750W HPL tungsten halogen lamps), and the Signify A19 LED lamps we used in the historical lantern fixture were brighter than the original 150W incandescent lamps. An obvious bonus is the significant reduction in electricity usage.

Also added were approximately 100 Dimming Stabilizers to the Strand dimming modules to achieve very low levels of dimming for all of the fixtures where Signify dimmable LED lamps were installed.
Jands Lighting → Using the Jands Stage CL
Scenework is working with Charlotte Lighting!
| | |
| --- | --- |
| | Scenework is proud to be collaborating with Charlotte Lighting. Charlotte Lighting fixtures are produced with Korean traditional, hand-made papers (Hanji) and fabrics. Experience the authentic, oriental style of ambience. |
Strand Lighting FLX S24 Console
The Strand FLX S24 Console is a 24 fader lighting control surface that brings the legacy and power of Strand consoles in an easy-to-use package at an affordable price. A lighting design-centric console built for the non-designer, the FLX S24 allows any user to quickly create beautiful looks in less time, and is the perfect console for schools, houses of worship, broadcast studios, and portable applications.

Click here for further information: Strand FLX S24 Console and/or download the FLX S24 datasheet.




Zero 88 FLX Lighting Console - Overview




ZerOS | RigSync Demo




WEBINAR | NEO Console Training

Strand FLX S24 Console Training Videos:
Scenework is proud to be appointed Canadian Control Systems Integrator for Ephesus Lighting
Scenework is proud to be appointed as Canadian Control Systems Integrator for Ephesus Lighting.

Owned by Cooper Lighting Solutions, a business unit of Signify, Ephesus now uses Strand Control solutions.
Altman Lighting LED Work Light II
| | |
| --- | --- |
| | The Altman Lighting Work Light II is the ideal solution for any space requiring a high CRI wide spectrum, dimmable work light. The small size and portability allows for placement in just about any venue. The 3000K or 5000K, 90 watt single point source allows for a true flood with soft distribution. The LED Work Light II is outfitted with on board dimming for local control or when set to full can be operated on any Phase cut or Triac dimmer. The Work Light II can output well over 14,000 lumens and offers a high CRI and soft, even distribution of light, when coupled with the included framed diffuser. |
Strand Lighting VLS System Upgrade Program Brochure v04
Altman Lighting Nimbus Line Of Video Conferencing Lighting Fixtures
125 Years of J. R. Clancy Catalogs
Drypigment.net
How To Effectively Light Your Green Screen
| | |
| --- | --- |
| | A great little YouTube primer on green screen lighting! |
"Inspired by Nature" Niagara Falls Illumination
Beginning Nov 14, the Niagara Falls Illumination Board is pleased to present "Inspired by Nature", a new illumination display showcasing colours and movements found in nature.

The display features the breathtaking colours of a sunrise, the aurora borealis, a rainbow and a sunset.

The mighty American and Canadian Horseshoe Falls will come alive every evening with this tribute to the natural beauty all around us!

Learn more: https://bit.ly/3ltMV0C.
Strand NEO Compact 10 Console
All the power of NEO in a smaller, more portable package — the most powerful console at this size and price.

Integrated Keyboard — Command line support allows for rapid console programming
Adapts to the Way You Work — User-configurable faders, buttons, and palettes
Seven FX Engines — Make it easy to achieve the look you desire
Strand Advantage — Strand, Vari-Lite, and CK fixtures do not consume universes
Vision.Net Integration — Generate and respond-to Vision.Net messages to integrate show and architectural control
Altman Genesis Lighting Control Console
| | |
| --- | --- |
| | The Altman Genesis lighting control console combines the ease of use of a fader based lighting controller with the power of a touch screen graphical user interface. |
Scenework • The Switch & The Baby Switch
Rosco Scenic Sets
Whether they're students or professional scenic painters, all artists need a way to experiment and hone their craft. That's the purpose of Rosco's new Scenic Sets. Rosco worked with a panel of professional scenic artists and professors to develop a range of practice kits that would provide colours and materials for painters to test and explore different scenic techniques.

Eight different Scenic Sets to choose from
Each Scenic Set contains four 6 oz. jars of Rosco scenic paint or coating materials
Perfect for practicing colour mixing, experimenting with wash and glaze layers, or testing different scenic treatments like skies, dirt and foliage
Shipping Mid-September — Contact Us To Pre-Order Scenic Sets Today!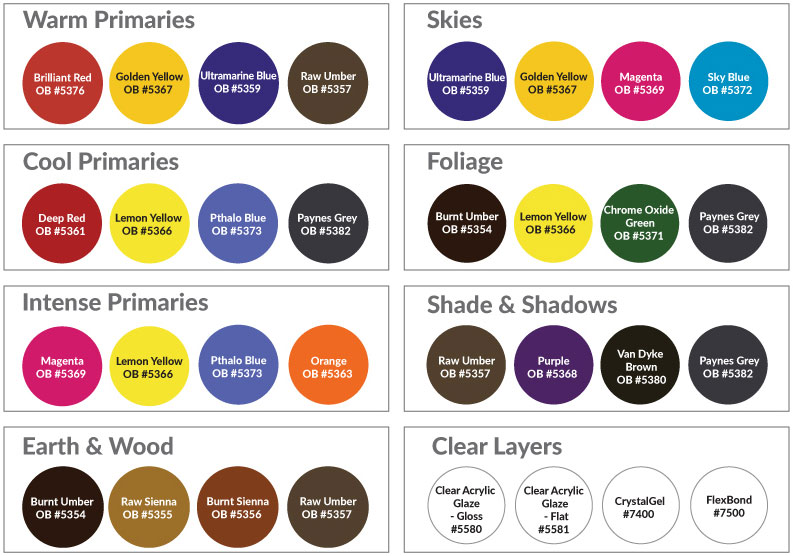 An Excellent Product For Back To School!
College and university theatre departments will be instructing their students remotely. Rosco Scenic Sets are an excellent tool for scenic art instructors to demonstrate different techniques remotely and they enable them to assign a variety of scenic projects to their students.
Would You Like A Quart Of White With Your Scenic Set?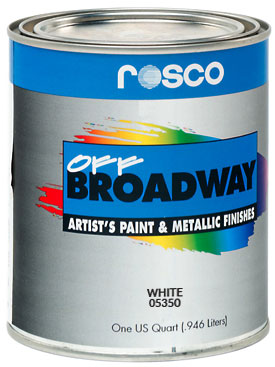 Scenic artists and professors typically decide not to include white paint in Scenic Sets, stating that "white is easy to get, it's the colours we really need." Contact us for a quart of Off Broadway White (or a set of Fitch Brushes).
Introducing Rosco Marley Mat™ Home Dance Floor Kits
| | |
| --- | --- |
| | Keep your customers dancing safely at home! Rosco's new Marley Mats™ have been very popular with dance studios offering remote instruction so that their students can practice their online lessons at home. Many dance studios have organized Marley Mat™ group-buys, and some schools have purchased Marley Mats to rent or loan to their students. Rosco Marley Mats are small dance surfaces designed for home use. They are made using our professional-grade Adagio Tour™, which is used by professional touring companies and dance competitions around the world. Marley Mats provide a dance surface that rolls out quickly and easily, with a "limited slip" grip that is excellent for ballet, jazz, modern, tap and many other styles of dance. Available in black or grey, each Marley Mat kit includes a roll of matching Rosco Floor Tape. |
Marley Mat Features:
Mat Dimensions: 63" x 72" (1.6m x 1.8m) limited slip dance surface
Tape Dimensions: 1.9" x 108.2' (48mm x 33m)
Colours: Available in Black or Gray and includes a roll of matching Rosco Floor Tape
Weight (Mat Only): 9.6 lbs. (1.26 kg)
Floor Speed: Medium-Fast
Perfect for Ballet, Jazz, Modern, and many other styles of dance — including tap! Don't forget — customers can combine Marley Mat™ with a Rosco PortaBarre™ to create a complete home dance studio!
Satco|Nuvo
Scenework is proud to now be an Authorized Reseller for

.
Scenework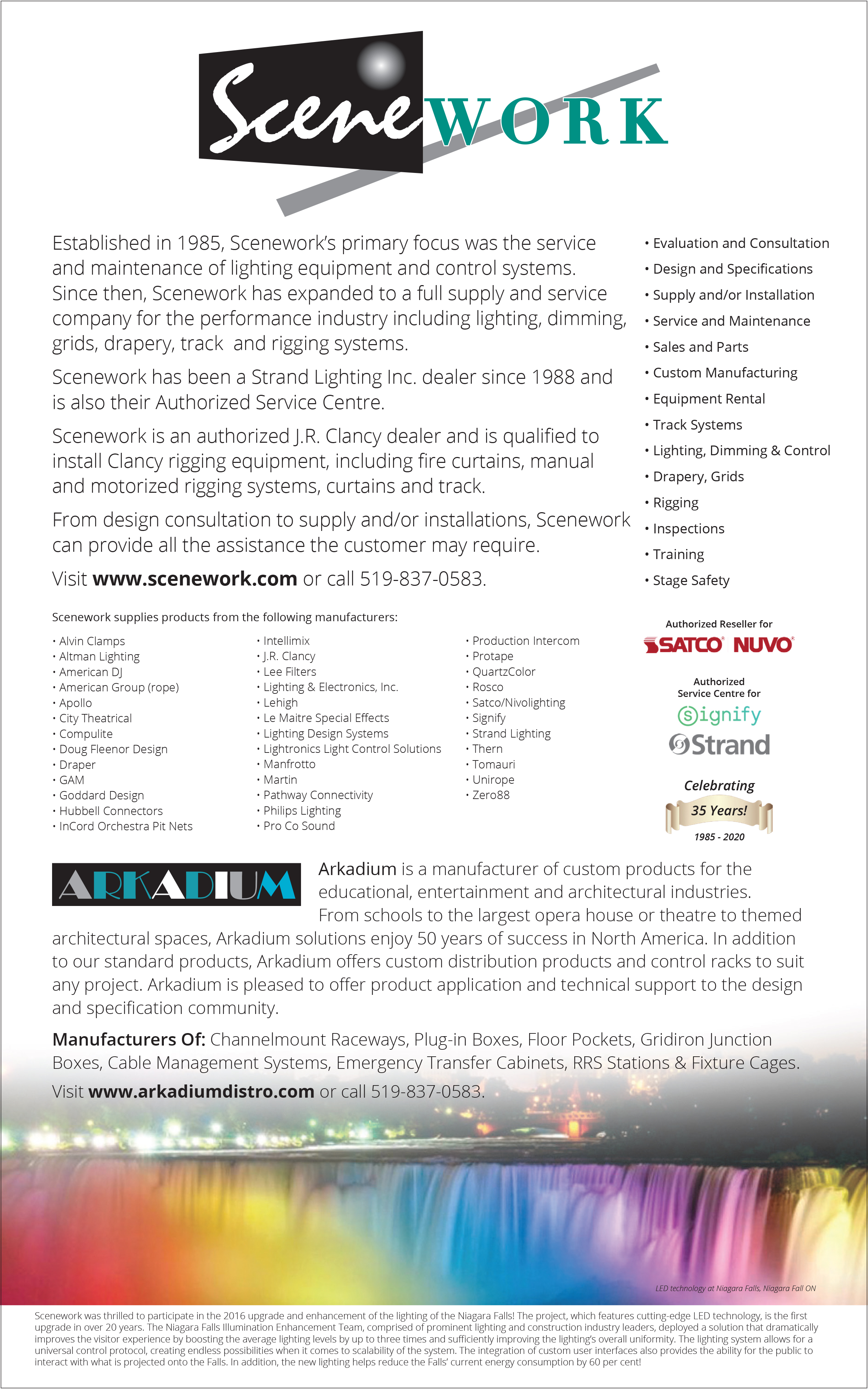 Niagara Falls!
POV: Niagara Falls is beautiful year-round, but it's most incredible in the winter!
Click the image to watch video →
BMO field, Toronto ON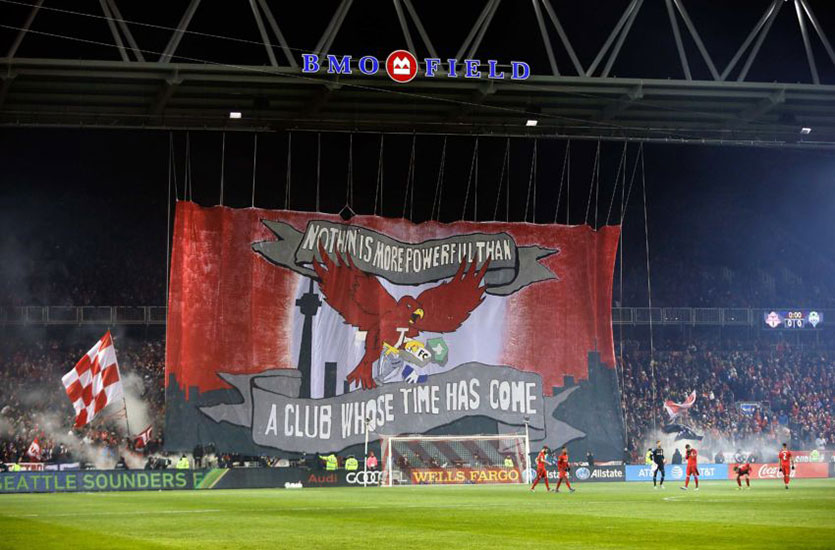 Shown in the image to the right at Toronto's BMO field, the Toronto FC's banner is hung from the winch system which Scenework installed in 2016.
Illuminating an Iconic North American Landmark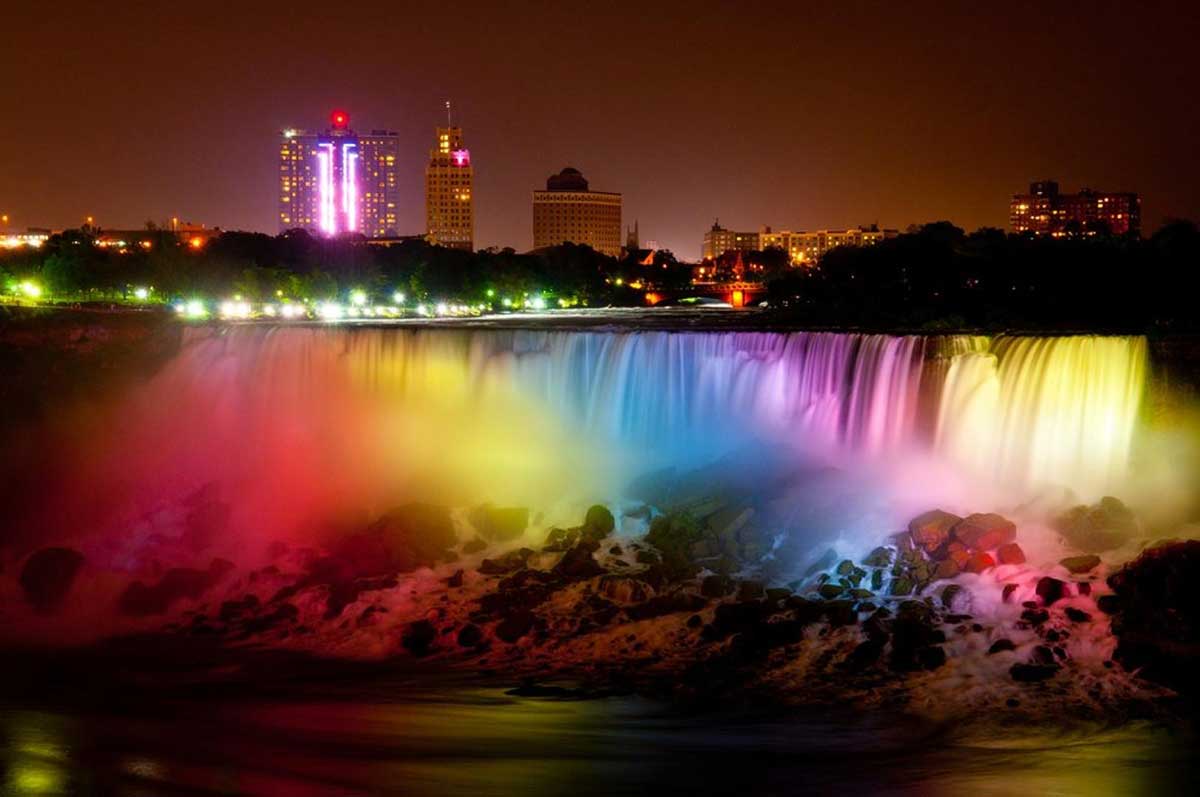 We're thrilled with our participation in the recent upgrade and enhancement of the lighting of the Niagara Falls! The project, which features cutting-edge LED technology, is the first upgrade in over 20 years. The Niagara Falls Illumination Enhancement Team, spearheaded by Salex president Nick Puopolo, is comprised of several prominent lighting and construction industry leaders. The team represents local, Canadian and American companies on this international endeavour, and includes: Michael Smolyansky, Applications Manager, Salex; Paul Boken, VP and Alan McIntosh, Senior Designer of Mulvey & Banani Lighting; Ed Gesch, President of ECCO Electric; Ron Foley, Scenework; and LED lighting products manufactured by Stanley Electric.
The new solution dramatically improves the visitor experience by boosting the average lighting levels by up to three times and sufficiently improving the lighting's overall uniformity. The new lighting system allows for a universal control protocol, creating endless possibilities when it comes to scalability of the system. The integration of custom user interfaces also provides the ability for the public to interact with what is projected onto the Falls. In addition, the new lighting helps reduce the Falls' current energy consumption by 60 per cent!
The newly installed lights were unveiled to the public on the evening of December 1st, 2016.
Niagara Falls Illumination Enhancement Team
Comprised of several prominent lighting and construction industry leaders, the team represents local, Canadian and American companies on this international endeavor.
Live Design Article (PDF)
Issue January 2017

L&SA Article (PDF)
Issue May 2017

IES Award of Excellence
Niagara Falls (PDF)
August 2017
NiagaraThisWeek.com → 'Frozen' falls capture imagination around globe.
Spearheaded by Salex president, Nick Puopolo, who is a Lighting Certified professional (LC) with 32 years of lighting experience. Together, with Ecco Electric Ltd, the two firms presented a modern lighting solution to the Niagara Falls Illumination Board. The proposal replaced the existing illumination system with the latest in LED technology. Salex - one of Canada's largest lighting and controls sales agencies - represents over 60 Canadian, American and European architectural lighting brands. The firm has worked on many award-winning projects and is recognized as Southern Ontario's leader in facilitating effective and sustainable commercial lighting solutions. Salex applications manager, Michael Smolyansky, P. Eng., LC, LEED AP, joined Nick Puopolo on the project.
International award winning Lighting Design consultancy, Mulvey & Banani Lighting (MBL) a subsidiary of Mulvey & Banani International Inc. (MBII) is represented by vice president Paul Boken and senior designer Alan McIntosh. The MBL team is comprised of dedicated and creative professionals with varied industry experience which inspire their design philosophy and approach. The team stays on the leading edge of lighting technology and design software tools through perpetual training, study and collaboration.
ECCO Electric Ltd. is a St. Catharines-based electrical construction firm with substantial experience working on large scale projects in and around Niagara Falls, including the Niagara Parks Commission. Ecco Electric presented the bid for this project and was represented by its president Ed Gesch.

Scenework

, represented by

Ron Foley

, is a leader in lighting installation, service and equipment supply with a specialty in servicing the theatrical, architectural and rigging industry.
Stanley Electric Co., Ltd. is one of the world's largest manufacturers of LEDs and LED modules. The innovative lighting company creatively designs high reliability lighting products for automotive (headlights, taillights), electronics, and general lighting markets worldwide. Established in Japan in 1920, the Stanley Group employs over 15,000 people in 18 countries with their North American office located in Irvine, CA.
Linus MacDonald, hired by the Illumination Board in 1995 as their lighting consultant, played a major role in the direction and quality control of the new Solid State LED lighting solution.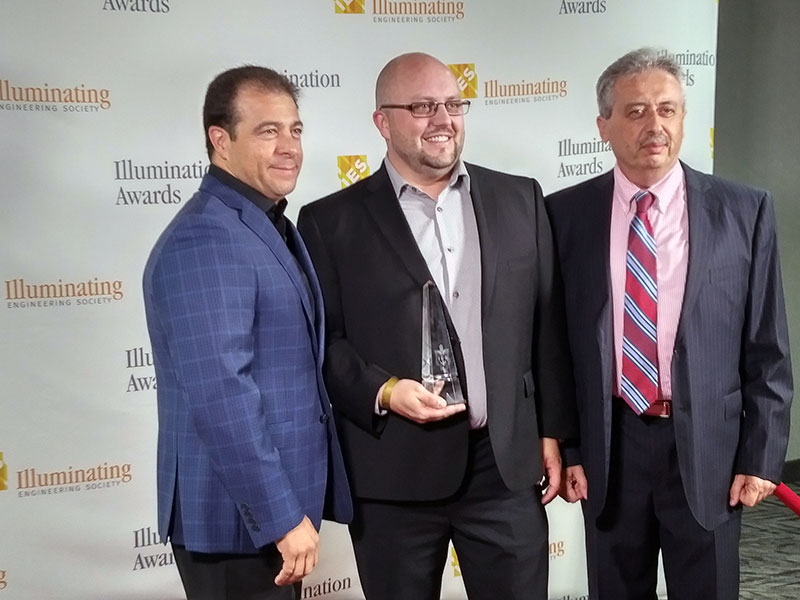 Niagara Falls Illumination Enhancement Design
The first permanent installation of Twenty-Four Arc lights took place on February 24th 1925. These were replaced on June 20th 1958, with new Carbon Arc lamps fixtures.
In the early 1970's the fixture were replaced once again utilizing a Xenon Gas lamps. This new system also included the first permanent coloured lighting solution. A blade colour controller was added which introduced combination of Red, Amber, Green and Blue light to Niagara Falls.
In 1997 a newer more efficient Xenon lamps was installed in the existing fixtures to improve the performance. That lighting system only offered a total of 21 zones of control, 10 across the American Falls and 11 across the Canadian Falls, producing a total of 5 colour combinations.
A new LED solution, unveiled on December 1, 2016, dramatically improved the visitor experience by boosting the average lighting levels 3 to 14 times the previous system, depending on the colours projected. The design also improved the overall uniformity by 75 times. Additionally, this maintenance-free solution reduced the Falls' energy consumption by 60 percent and the upgraded LEDs provided a minimum 25-year lifespan.
The new system is comprised of very narrow beam, high intensity LED luminaires arranged in groupings. This grouped approach allows for precise light distribution, as each cluster is divided into adjustable quadrants improving the overall uniformity across the entire falls.
The new LED lighting system provides a total of 350 zones of control, 120 across the American Falls and 230 across the Canadian Falls. Each control zone is equipped with separate Red, Green, Blue and White LED luminaires. A total of 1,400 individual luminaires are used and together provide the ability to produce up to 16,777,000 different colours combinations.
The universal control protocol offers endless possibilities when it comes to scalability of the system. This provides the Niagara Falls Illumination Board the ability to astronomically schedule lighting scenes and synchronize the lighting with surrounding events, festivals and public attractions. The integration of a custom user interfaces also provides the ability for the public to interact with the experience and the illumination projected onto the falls.
For additional details: